Ignition Assault cards in search of the elusive 10,000 Secret Rare card!
"Duelist card protector six attribute set" real image
【サテライトショップ千葉中央店】本日は16時から『🔰駆けだしデュエリストの交流会』が楽しめます🙌本日発売『デュエリストカードプロテクター 六属性セット』店頭販売分はお店でご確認ください❗️
千葉中央店アカウント👉@stllt_chiba
イベントのスケジュールはこちら👉https://t.co/OT2rlcRZiq pic.twitter.com/s2UGE4uQyH

— 【公式】遊戯王OCG (@YuGiOh_OCG_INFO) October 19, 2019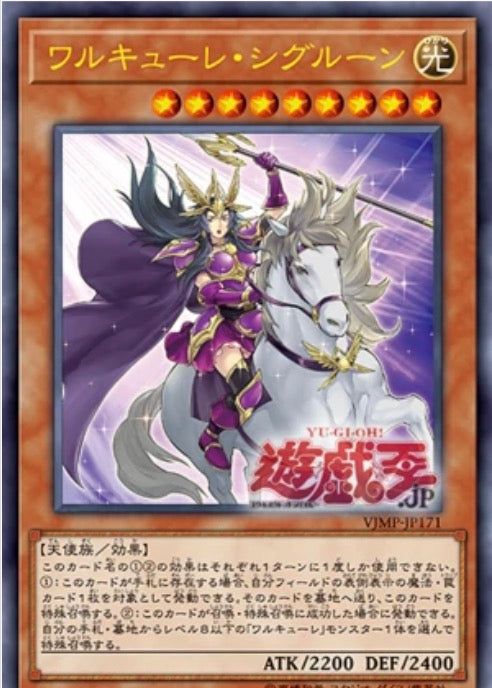 Card name
Card descriptions

Valkyrie Sigurn VJMP-JP171

If this card is in your hand, you can target 1 face-up Spell/Trap Card on your Field, Send that card to the Graveyard and Special Summon this card. When this card is summoned, Special Summon 1 Level 8 or lower "Valkyrie" monster from your hand or Graveyard. You can only use each of the effects of this card once per turn.
【Yu-Gi-Oh benefits opened】V jump June, 2019
What is "shooter riser dragon"
 Shooting Riser Dragon is a synchro monster tuner that sends one monster from the deck to the graveyard if it is successfully synchro-summoned, and has the effect of lowering its own level by that monster's level.

Synchro Summoning can also be performed using yourselves as an ingredient during your opponent's Main Phase.
Shooting Riser Dragon allows you to send lower-level monsters from your deck to the graveyard if Synchro Summoning is successful.

In addition to being used as a simple graveyard fertilizer, adjusting the level of the Shooting Riser Dragon itself can also be linked to subsequent Synchro Summons.

Shooting Riser Dragon can be Special Summoned by the effect of Crystal Machine-Hari Fiber, and can activate the effect.

 

In the tournament environment, Shooting Riser Dragon is mainly used on the Orphegor deck.

You can Special Summon a "Girls Riser Dragon" from "Crystal-Harrifiber" to your opponent's turn, and send an "Orphegor" monster with a graveyard effect to the graveyard.

You can create a more powerful board by using the effects that can be Synchro Summoned to your opponent's Shooter Riser Dragon turn, and develop powerful Synchro monsters such as Varel Road S Dragon on your opponent's turn.

 

These days, it has been adopted as the new theme of the "rising rampage" [Tenge] deck.

Specially adopted in the construction combined with the main theme of the Genryu Tribal Synchro Summoner "Rypus", the "Tengei" monster can also be activated in the graveyard by the effect of the "shooter riser dragon". Can be sent to

It is also possible to deploy "Ryturn Star" Synchro monsters including "Genryusei-Boutengkou" on the opponent's turn by Shooting Riser Dragon.
[Yu-Gi-Oh OCG furrage] DP Legend Duelist 5 "Karse Necrofia", "Evil Spirit of Killing", "Evil Spirit of Praise", "Dark Ocretism", "Declaration of Death" will be newly recorded!